BUCCANEER BAY
An Historical Experience
Step back in time to the 17th &18th Centuries.
Would you like to time travel into the past, back to the early colonial period in North America?
Have you ever dreamed of being part of an event that took place 300+ years ago?
Have you ever wondered how people lived so long ago when the colonies were still young?
Would you like to be part of history rather than just an observer?
Have you ever searched for a genuine buried treasure left by pirates?
You can do all this and much more at Buccaneer Bay.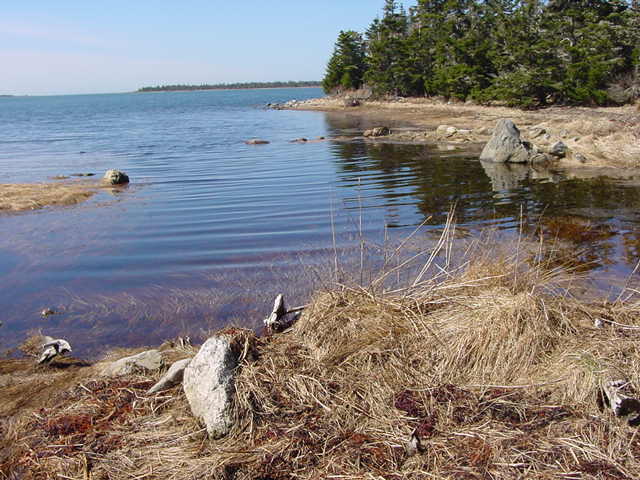 A view from one of the small inlets of Buccaneer Bay, (to be developed soon),with 2 treasure islands in the distance.

In the Maritime province of Nova scotia, on the east coast of Canada, legends and history
abound with tales of early explorers, settlements, fortresses, fierce battles, privateering, and piracy.
Evidence of early settlements are still being unearthed, and
buried treasure is still sought after today, on our islands and harbors.
Nova scotia has numerous historic sites dating from 1605, however, none of them offer the
visitor a chance to become part of the surroundings and interact with the site.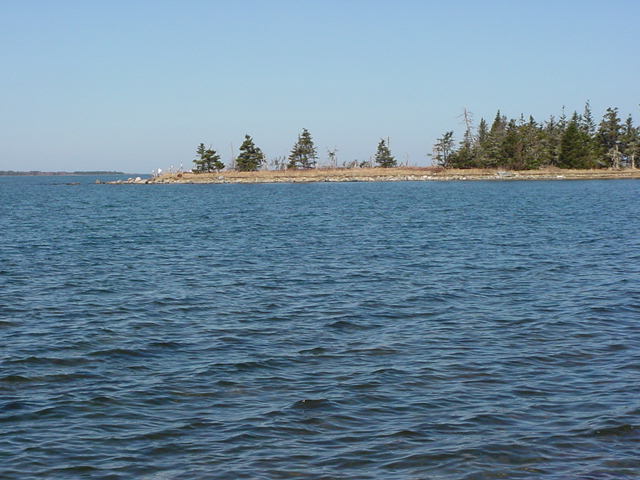 View across one of the bays on our site to another point of land with an island in the distance, far left.
*MORE PICTURES *
CLICK HERE

Here at Buccaneer Bay, along Nova Scotias' famous south shore, the waters
are warm, calm and clean.Our site is over 40 acres in size, with approx. 2000 feet
of water frontage on the Atlantic ocean.
We are located just minutes from an area, which was originally settled in the
early1600's by the French.

***Check out our exclusive MEMBERSHIP offer***

When you enter our site, you will be asked to park your car, as no automobiles
are allowed past the entrance, and you will be directed to our orientation center.
After entering our orientation center, you will be given the opportunity to trade
in your modern money for
period correct coinage, which you can use at the on site stores, bakery, or inn.
You may also rent or purchase clothing styled from the early colonial period to
blend in with the surroundings.
Now you are ready to cross the threashold into another time period;
The Adventure Begins.......
You may walk to our seaside colonial village, or hitch a ride on a wagon bound for town.
You may choose to rent one of our 17th century style cabins and stay for a night
or two, or for those more adventurous, we have an area where you can set up your
own tent just outside the village.
You can dine at a 17thC styled inn, and later on, walk along the unpaved
colonial streets, admiring the correctly styled buildings.

Visit a colonial bakery, a dry goods store, black smith shop, our fortress/museum,
or relax on our warf.
You can participate in historical demonstrations or reenactments and mingle
with our period suited staff.
Take a walk thru our wilderness trails at your leisure, and admire the lush
exotic flora, or take a wagon ride and tour our back woods roads, (but
beware of highwaymen and pirates).
Take a tour of our early Acadian farm and offer your assistance tending the
garden and livestock, or visit our early Micmac,(Mi'kmaq), village display.
Enjoy the wildlife, (deer, owls, rabbit, herons, sea gulls, turtles, etc.), that
abound in our secluded historical retreat.
We offer fishing excursions, or you may take part in a chartered boat
"tour of discovery" to the local islands.
Watch as buccaneers, traders, colonists and soldiers routinely visit the site.
You may even witness a sword fight or two.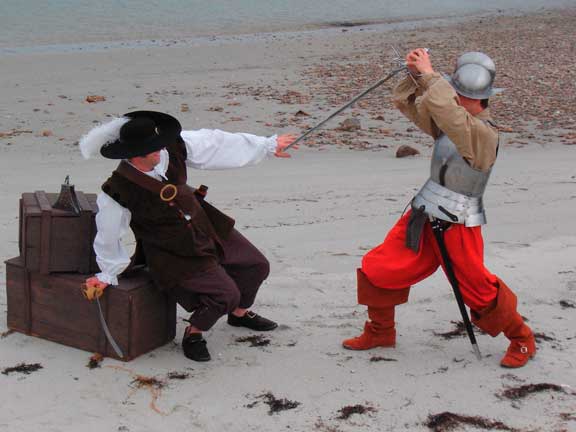 .
A couple of our staff portraying 17th C. buccaneer and Spanish soldier, deadly enemies.
* -----------------------------------*
**Maybe you would like to take part in a genuine pirate treasure hunt.**
At night, enjoy the quiet sight of the sunset over the atlantic, take a walk along
the shore, or visit a local camp fire.
Leave all the noise and stress of 21st century life behind. Breathe the fresh salt
air and relax in our little corner of the world, that is the same today as it would
have been over 300 years ago.
This is a place where radios, TV's, and cars are not heard. The only sounds you
may hear are voices of staff and visitors, wildlife, and maybe the occasional boom
of a cannon or blunderbuss.
This is the closest you may ever get to experiencing first hand, the early days in our history.

Check out our limited MEMBERSHIP offer.
.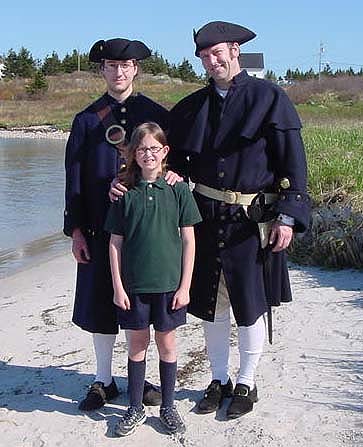 We are open to school and group tours as well.
Our staff are well versed in history and many are bilingual.

We are open to group & school tours, day visitors and weekend or week long bookings.
Your stay should be prebooked, however no reservation is needed for our
on-site campground or for day visitors .
Our resort would also make a great corporate retreat.
Guided tours of the site are available for day visitors and those staying longer.
Special rates available for historical reenactment groups.

The Treasure Hunt
**Our treasure hunt must be prebooked and is also offered with a weekend package.
Our treasure hunt will take several hours.
You will be taken by boat from our warf, to one of the islands, or further along
the coast to a site indicated on a treasure map. Hopefully you will find the land
marks on the map.
You will be given the map, a compass, telescope, & shovels, and our guide
will assist you in locating the probable spot where the treasure may be burried.
After making your way thru the undergrowth, you will start digging, and hopefully
find what others have failed to locate for many years.
Be constantly on your guard though, for pirates haunt these waters and raid the lands.
A well armed lookout may be adviseable while on your quest.
Our guide will be well prepared should a malefactor decide to interfere in your search.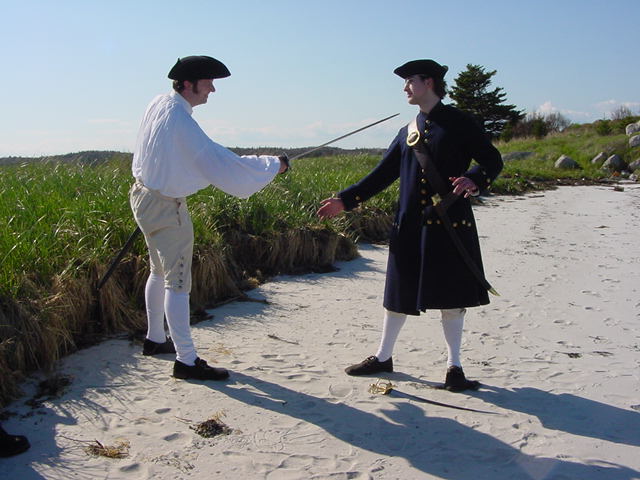 Your guide will be well armed to guard your treasure expedition in the event of an attempted raid.
You should always be prepared on the occasion that you find yourself
being filmed for a movie or documentary.
Come join us in history.
A totally new concept in Adventure tourism.
Come to Nova Scotia and step into the past with us...
You may never want to leave our little paradise.
Check out our new exclusive MEMBERSHIP offer !!!
For inquiries or bookings contact us below at:
Tel. (902)-479-0967
Fax. 479-0032
email
#10 Brunt Rd., Harrietsfield, Nova Scotia, Canada
B3V 1B1
All pictures, concepts, plans, offers, sketches, maps, designs, pricing structures, etc., presented on this
website are the sole property of
Company of Privateers,
Halifax Nova Scotia, Canada. copywrite 2005.